Limited Time PLR Offer for
Gratitude Journal Package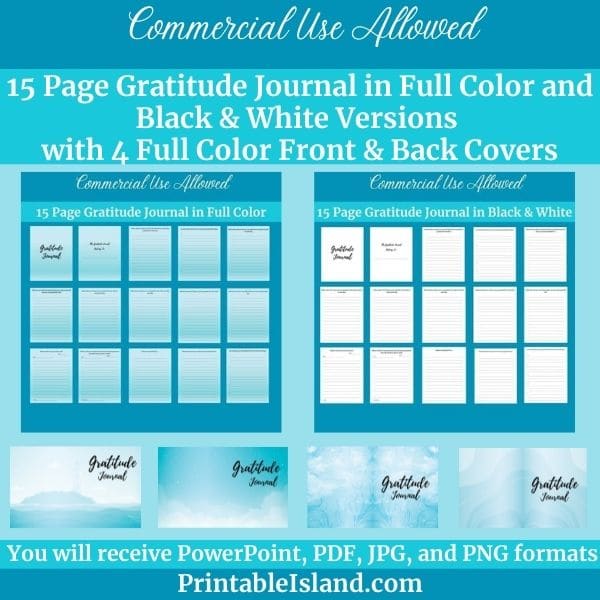 Summary of what's included in the package: 
30 Pages Total – 15 Pages Full Color Version and 15 Pages Black & White Version, and 4 Full Color Front & Back Covers
File Sizes are 8.5 x 11 in PowerPoint, PDF, JPG and PNG Formats
Front Cover
Belongs To Page
List five ways that you can share your gratitude today
Write about a person in your life that you're especially grateful for and why
What do you take for granted about your day-to-day life that you can be grateful for?
Write about the music you are grateful to be able to listen to and why
Write about movies you are grateful to be able to watch and why
Write about TV shows you are grateful to be able to watch and why
What elements of nature are you grateful for and why?
What part of your morning routine are you most grateful for?
Write a letter to someone who has positively impacted your life, however big or small.
Write a letter to your future self
What aspects of your home are you grateful for?
Today I am grateful for…
List 5 things you are grateful for from the last 30 days
You may use this product for Commercial Use to create new planners and journals to self publish, for clients, or sell on e-commerce platforms.
You cannot use Printable Island's name and you cannot resell the PLR Rights to this content in any form.
If you have any questions, please contact us at Support@PrintableIsland.com